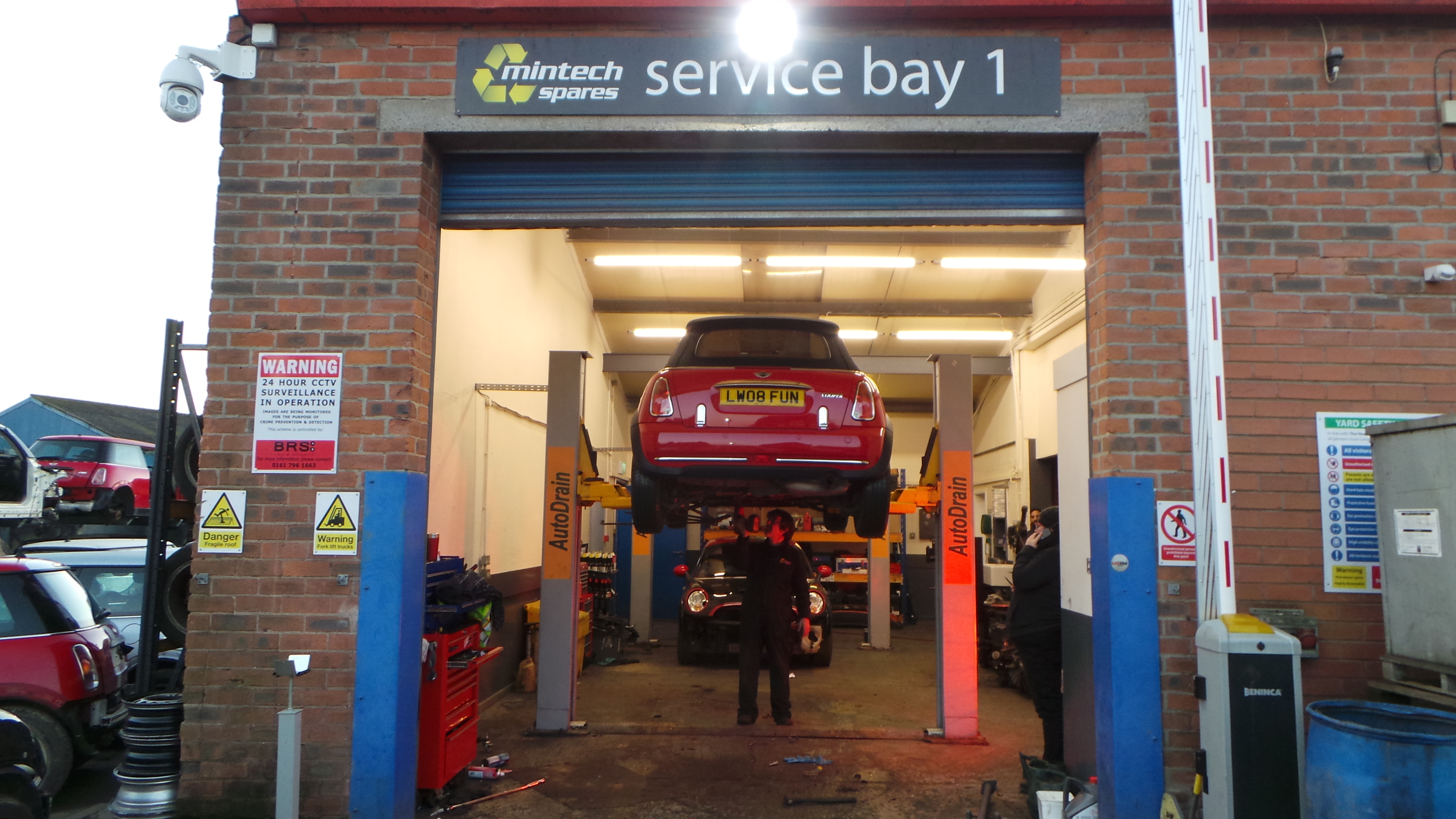 Whether your Mini needs servicing , condition based servicing, parts fitting, diagnostic fault finding, MOT work or repairs, MINTECH SPARES UK LIMITED's qualified team of technicians will complete the work for you to the highest standards using specialist tools and equipment and genuine BMW Mini approved parts and spares.
By choosing MINTECH SPARES UK LIMITED you can save up to 40% on Mini servicing and repairs. We provide genuine new Mini parts or if requested quality, tested used parts for all the Mini repairs we undertake.
At MINTECH SPARES UK LIMITED we have a dedicated and fully trained and experienced team of mini technicians. So whether you have a R50 Mini One or have a R56 John Cooper Work's, you can be sure we know what we are talking about.
We have a full workshop facility equipped with specialist tools to carry out oil services, Inspection 1 and 2 services, engine and gearbox reconditioning and a full fitting service, we also carry out any other type of repairs required.
Using the latest Autologic diagnostic equipment that is bespoke for the Mini we able to quickly diagnose faults and specify the required work that needs to be undertaken, thus saving you money by swift diagnostic and trouble shooting.
MINTECH SPARES UK LIMITED are committed to bring you the highest quality of work and customer service at a fair and honest price. We serve our customers in a respectful manner and make continuous improvements to endlessly pursue the art of perfection.
Autologic capability's include full fault code read and re-set, full component activation, electronic control unit procedures ,clearing and setting of adaptation values, full coverage of (ECU) control units coding, full programming capability including engine control modules and transmission control modules, adjustment of engine idle, real-time reading of all dynamic data, procedure for engine and immobiliser alignment, procedure for trail substitution of control units and procedure for the fitting of BMW Mini accessories. Car/Key Memory function for personalizing vehicle.
Full estimates will be supplied prior to any work being undertaken, only when you are fully satisfied with the quote will we proceed with the work.
Our hourly rate is from £50 per hour.
Servicing from £99.00.
Specific tools and equipment.
In depth knowledge of all models and common faults.
On going reinvestment in equipment and staff enables MINTECH SPARES UK LIMITED to continue to offer our customers the best service possible.
Our traditional business values allow us to build strong relationships with our customers.
We are a friendly team of 'down to earth' individuals, which makes us a refreshing change from main dealer networks.
We respect each and every one of our customers whether you are looking for a spark plug or a full engine rebuild, you can be assured that Mini Spares Uk will give you peace of mind and value for money.
If you would like to experience our personal service for all your Mini requirments then contact our dedicated service team at MINTECH SPARES UK LIMITED today for all your mini servicing and repair requirements.
Book your MINI service today